Deep in the heart of British Columbia's remote North Thompson River Valley, just off the vast Yellowhead highway lies Slick Row, one man's trucking passion and last refuge of some classic Ford iron.
There's a note taped inside the window of one of the trucks out front along with a notebook for visitor's comments:
Welcome to Slick Row. My collection of these trucks started 30 years ago when I traded the second truck on the left (1961 F100 Short Box Unibody) from my Younger Brother Miles who passed away in 2010. Everyone and their dog has a Chevy so I decided to start collecting these slick 60′s Fords and Mercury's… Have a great day and please enjoy my collection as much as I enjoy sharing it with you.

Marvin
Marvin, the curator of this collection, lives on site and is building his dream there – a restoration shop where some of his charges will be returned to their former glory for future generations to enjoy. The day we stopped by, he was pouring the concrete foundation of this Field of Dreams.
Here are a few of the residents of Slick Row:
The 1961 Ford Styleside is a rare example of Ford's brief experiment with a truck-ute hybrid. The cab panels are integral with the boxsides,so there's is no gap in front of the bed.
Unfortunately, body flex when loaded was an issue and the design was dropped in mid-62.
Ironically, this ad touts the greater strength of the one-piece cab-and-body design.
The four-wheel drive versions mentioned in the ad did not use the one-piece design – they went with a conventional, separate box layout. This was because of the additional twisting stresses that might happen in off-road use.
More '61 Ford truck ads, including the Falcon Ranchero and Econoline Pickup are here.
Besides the pickups lined up out front, there is a variety of other cool Dearborn iron around, including this 1959 Ford F350 flat deck.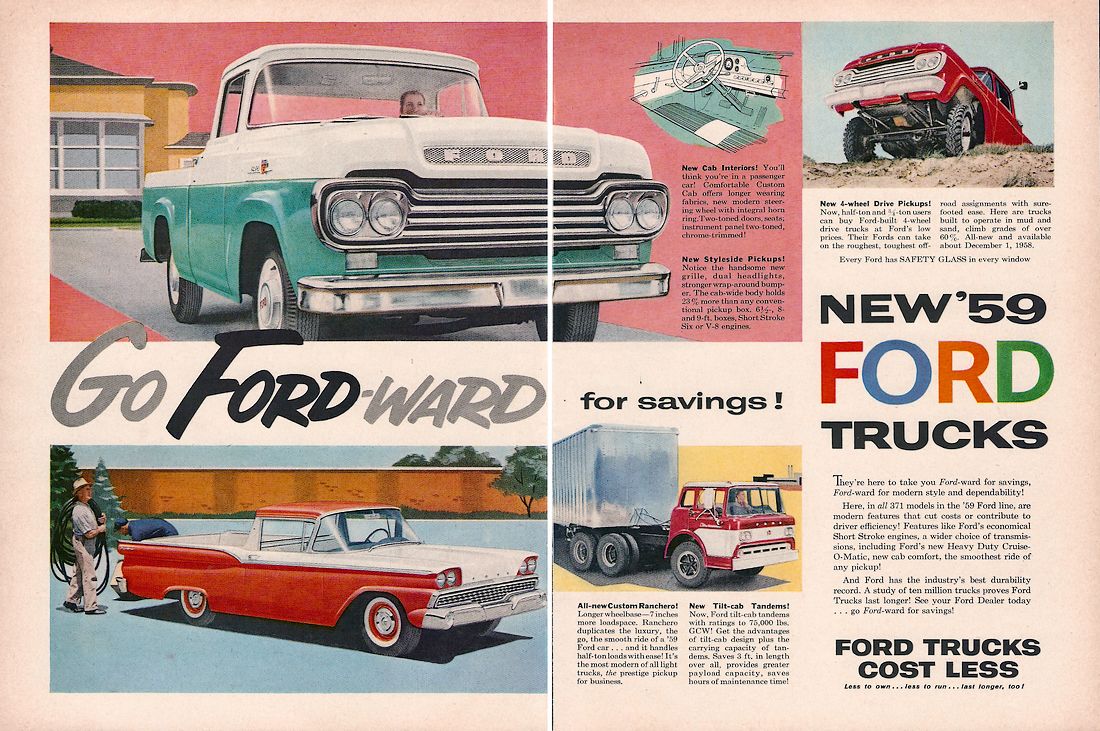 "Go FORD-WARD" was the slogan for 1959 Ford trucks, said to give 25.2% better gas mileage than the other guys.
originally posted October 17, 2013